Moving boxes! Everyone who's moving needs them! So where do you find free moving boxes, or moving boxes which are -- at the very least -- inexpensive?
Need to purchase boxes, moving supplies, or packing material for your move, project, or relocation? No worries! We have a complete selection of moving boxes and moving supplies available for purchase.

Much of the secret of packing is having the right materials with which to work, and the application of some good common sense. If you are going to do your own packing, the tips contained in our free Packing Tips should help remove some of the mystery or professional packing techniques. Below is a list of boxes which are standard to the moving & storage industry...

Dish Pack (Capacity: 5.6 cubic feet / Dimensions: 18" x 18" x 28" high)
Our Dish Packs are extra sturdy double-wall constructed cartons appropriate for items as china, dishes, crystal, glassware, and lamps.

Small Carton / Book Carton (Capacity: 1.5 cubic feet / Dimensions: 16.5" x 12.5" x 12.5" high)
Book Cartons are a small and easy to handle carton which are designed for heavy items such as books or tools.

Medium Carton (Capacity: 3.0 cubic feet / Dimensions: 18" x 18" x 16" high)
Medium Cartons are a medium-sized utility carton which is used for packing linens, pots, pans, toys, non-perishables, and smaller appliances.

Large Carton (Capacity: 4.5 cubic feet / Dimensions: 18" x 18" x 24" high)
This large carton is designed for large or bulky items such as linens, towels, toys or lampshades.

Extra Large Carton (Capacity: 6.0 cubic feet / Dimensions: 23" x 20" x 23" high)
The Extra Large Carton is designed for light-weight or bulky articles such as pillows, blankets and large lampshades.

Wardrobe Carton (Capacity: 15.0 cubic feet / Dimensions: 40" x 22" x 48" high)
Wardrobe Cartons include a hanger bar to accommodate clothes from your closet or draperies. In effect, Wardrobe Cartons are cardboard closets.

Mirror Carton (Dimensions: 40" x 60" max)
Our Mirror Cartons will telescope to fit almost any size framed artwork, pictures, mirrors, or glass tops.

Mattress Cartons (Available in various sizes)
Mattress Cartons are available many sizes: king, queen, double, single (twin) and crib sizes. You'll need one carton for each mattress or box spring.
But where does one find free or inexpensive moving boxes? No worries mate! Here are a few suggestions which should get you started...
Ask your mover! He or she may have used boxes which she will give you or may have some other helpful suggestions
Home Depot! Yes...check your local Home Depot or Lowes home improvement centers for moving boxes at really teriffic prices
Ask your local grocery store or liquor store manager for free boxes...they often throw them out
 Finding free or inexpensive moving boxes requires a little effort but pays off in the end.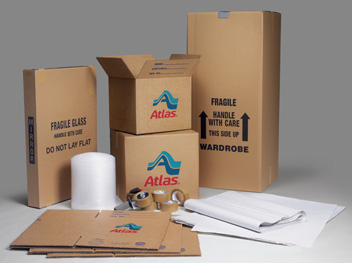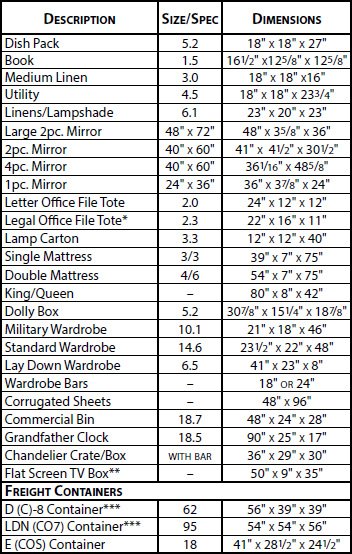 © Copyright Avatar Relocation, All Rights Reserved
* * *
Your comments...