When you pack the contents of your home for a move some items defy packing imagination and you may ask "how the heck to I pack and prepare this type of item for moving?" Well, no worries! We've created this handy guide on how to pack these pesky items so that they get moved safely and securely.
Fishing Rods
Many moving company drivers have begun to insist that fishing rods must be packed because they don't want to pay for a broken tip (or get a hook stuck in their hand1). There are several ways to pack these by using double stacked wardrobe boxes, 4 piece type mirror cartons, tall lamp cartons, or gun cartons.
Ladders
Ladders will be moved as is. It should be noted that extension ladders are one the most commonly misplaced items which are moved (they get placed in the truck's "belly box" and forgotten about during delivery). Just make sure your ladders are listed on the mover's inventory, and make certain that you do an inventory check off when you receive your shipment at destination.
Keyboards
Keyboards should be packed and marked "Keyboard - Load On Top!".  
Garden Tools
Garden tools are moved "as is" and if the mover pads them (most don't) he or she will use a burlap "skin" type pad (a burlap outer layer with a fleece type inner lining). The worst thing which can be done with yard tools is to pack them in an open top box. If you really want your garden tools packed and grouped together, it is suggested that you utilize the double wardrobe method (or maybe even a double dishpack).
Packing Extra Long or Extra Tall Items
Extra long or extra tall items can be packed using the "double stacked carton" technique which is outlined below.
How To Make "Double Stacked Cartons"
Making double stacked cartons (also called a "high-hat" carton) is a great but simple technique for creating extra tall (or extra wide) boxes which can accommodate tall or wide items. Basically you assemble the bottom of a box just like you normally would, but do not close the top of the box. Next, fill the box up with the extra tall stuff you want to pack. Next, take a box of the same exact size and make the second box up -- however -- this time instead of closing the bottom of the box leave the box bottom open and close (tape up) the top. Now slide this box over the one you previously filled up. You end up with a sturdy extra tall box which is flat on the top and ready to be loaded in the moving truck. An example of constructing a double stacked carton (also called "High-Hat" carton) is shown below...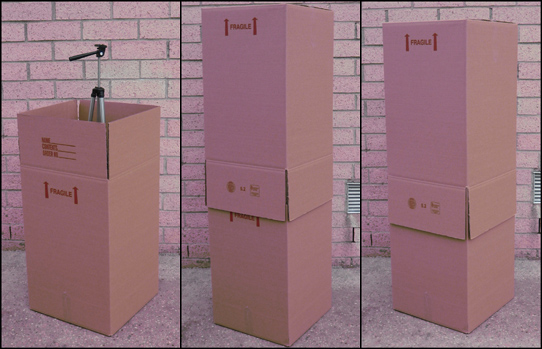 © Copyright Avatar Relocation, All Rights Reserved
* * *
Your comments...