Commercial legal tote cartons for office moving are a wonderful product and is the perfect size for holding one file drawer of legal size folders. It is ideal for both business and personal uses to store and retain files and documents. These office moving boxes are designed specifically for office moving; they have handles; they fold together so they do not require tape and, if assembled correctly, they are very strong so that each box will hold 65 pounds of contents.
Legal tote carton dimensions: 22" x 15" x 12" (2.3 cu/ft)
Gross weight limit: 65 lbs.
ECT: 32
Not designed for use with hanging files
Built-in handles for easy lifting and carrying
Assembling commercial legal tote cartons can be a challenge so we have provided you with step-by-step instruction for the proper method to assemble these boxes...
Step 1...
Unfold the carton and square it off.
Turn the carton upside down to fold up the bottom flaps (the print will be upside down).
Fold ("Flap A") completely over and down into inside of carton so that ("Flap A") will lay against the body of carton.
Next, fold both ("Flaps B") completely over to lay against ("Flap C"). After ("Flaps B") are folded over, fold ("Flap C") over flush with bottom of the carton.
Turn carton right side up and lay flat on bottom.
Please refer to the "STEP 1" instructional image below...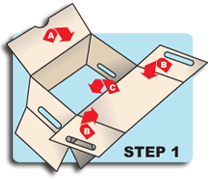 Step 2...
After carton is turned right-side-up, fold ("Flaps B") up and against side of carton.
Push hand holes on both sides of carton inward to lock through hand holes on (part b).
Then fold ("Flap A") down and lay flush against bottom of carton. You are now ready to pack the assembled carton.
To fold top flaps, fold the small flaps first and fold large flaps over to interlock with each other. 
Please refer to the "STEP 2" instructional image below...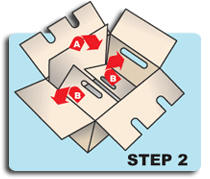 Often, these instructions are printed on the bottom of the commercial tote carton (as shown below)...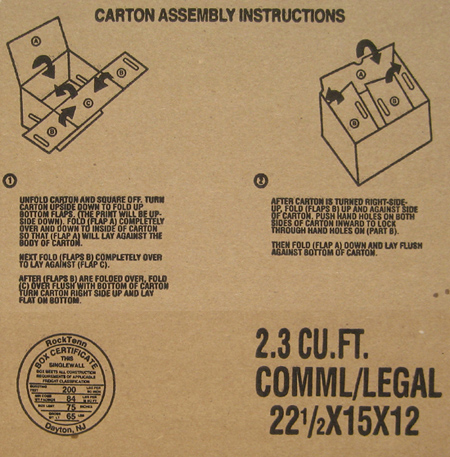 © Copyright Avatar Relocation, All Rights Reserved
* * *  
Your comments...

Reader Comments

Add new comment