By Christopher Noblit We offer the following guide to assist you in planning an efficient move and to eliminate unnecessary expense. Experience has taught us that thorough planning, preparation and cooperation between our company and your company will eliminate confusion, minimize down time, and will save you money. Please feel free to call us at 1-800-439-4900 if you have any questions regarding preparations for your move.
Implementing a system for tagging and marking
The process of coding floor plans is the first step in developing a logical move plan. The strategy is to prepare the move to flow in a logical and fluid manner. Every item to be moved must be identified and labeled so that it may be placed by the mover in it's exact destination location. A tag also instructs a mover how to handle that item, for example:
| | |
| --- | --- |
| Location (where the item goes) | Sequence (one color may proceed another) |
| Liquidation (directive to mover) | Do not move (directive to the mover) |
| Storage (directive to the mover) | Contents (directive to the unpacker) |
Placement of furniture and equipment at your new facility will be identified by number, not by name. When coding the floor plan each person and each area being moved must be identified with a single room or area number. To identify placement location, placards with the proper room numbers must be affixed to the entrance of each individual area and/or room at your new facility.
Everything must be tagged! For example; when a desk has a removable return, both pieces are tagged. Each piece of computer equipment is tagged (i.e.: monitor, CPU, keyboard and cable bundle). Everything must be tagged no matter how seemingly inconsequential (i.e.: floor mats, white boards, trash cans, etc...). Items without a tag will not be moved. This great level of detail means less supervision will be required at your new facility (remember; the mover's time is your money).
An example of our method for indicating placements at destination is shown on the left. Each individual item is assigned a number which corresponds to it's place on the floor plan. In this example the employee's room/area number is 15. A dash ("-") is placed after the number and each individual piece of furniture is assigned a numbered location which corresponds to the number shown on your floor plan.
Proper tagging and placarding will be a key factor in achieving an organized and smooth-flowing move. It will save your company time and money.
Moving computer and desktop equipment
Computer equipment must be disconnected by your company. Hard disk drives should be backed up prior to the move. Service, warranty or leasing agents must be notified that you intend to move the equipment. Do not pack these machines. Leave the machines on top of their desk or stand. Typewriter carriages must be centered. All machines must be unfastened and disconnected. Pads and covers for machines should be placed in a carton.
We will give particular attention to all of these units. Personal computer equipment will be blanket wrapped and packed into bins by the movers. Typewriters and other large desk-top business machines should be properly tagged, disconnected and left on their respective desk tops. Avatar Moving Systems movers will blanket wrap each machine and pack them into appropriate bin containers. Each piece must be individually tagged (i.e. the CPU, monitor, keyboard and cable are tagged separately) with the employee's assigned number.
Packing and marking boxes and cartons
We will supply "tote" cartons which are uniform in size (making them easier to handle, thus speeding the move and saving money). Tote cartons fold together and do not require tape for assembly or sealing. They are extremely strong. If you decide to utilize other cartons, make sure they are thoroughly taped closed.
Cartons are stacked when moved; therefore, please don't overpack them. Flat tops on cartons will speed the move. Tag boxes on both ends. Do not tag cartons on top! All packing should be completed prior to the start of the actual move. Be sure that all cartons are properly assembled. Leave a two inch space on top of each carton. We have special cartons and boxes available for electronic equipment, libraries, bulk supplies, lamps and other breakables. If you require special boxes or packing services, advise your Move Consultant.
Personal items
The mover cannot be responsible for your personal possessions, such as legal papers, money, lighters, fountain pens, etc. For your own protection, we suggest that you move these items privately. If you need special containers, ask your Move Consultant.
Desks, credenzas and chairs
Desks, credenzas and storage cabinets are moved on end. Unless the contents of these items are completely emptied and packed into cartons the contents will fall out and be lost. Pack all contents. This includes current working papers, letter trays, books and other desk top items. Important: seal paper cups, pencils and all other loose materials in envelopes and then pack them in cartons. Protect all glass receptacles with paper or other stuffings. Leave glass tops and pads on top of desks for the mover to handle. Desks and credenzas are tagged on the top surface. Chairs are tagged on the back rest.
Photocopy machines
Photocopy machines need to be serviced by the manufacturer or service contract agent before being moved. Failure to do so may void your machine's service contract or warranty. Generally, after they've been serviced, these machines are blanket wrapped and moved via air-ride padded vans by our movers. Do not move copiers with toner installed! Remove all tone and liquids from these machines prior to moving day!
Bookcases and storage cabinets
Empty them completely and pack the contents into tote cartons. Bookcase shelf pegs should be removed and packed away for safe keeping. Loose bookcase shelves should be tagged separately and laid down in the bottom of the bookcase. Bookcases are tagged on either side, or on top. Storage cabinets are tagged on the upper right hand corner.
Plants
Since the mover is not responsible for the safe transportation of plants, employees must arrange for other methods of transportation.
Steel shelving
Assembled units must be cleared of all supplies and stock before they can be moved. See your mover for recommendations on tagging steel shelves holding stock. Most types of steel shelving should be dismantled prior to attempting to move it.
Work benches and tables
Surfaces must be cleared of all items. Drawers must be emptied and the contents packed into cartons. Workbenches and tables are tagged on the top work surface.
Pictures, white boards, maps and bulletin boards
If secured, remove these items from the wall. Tag each piece according to Tagging Instructions; place them on end, back-to-back in mover supplied picture cartons. If the item does not fit in a carton, lean it against the wall and the mover will take it from there. Consolidate small pictures in a single carton. Cushion with packing material, such as newspaper.
Keys and locks
Where locks and keys are available for any items being moved, keys should be wire tagged, coded to the locks they fit and packed in a safe place.
Delicate and fragile material
Mark it FRAGILE! To assure special handling be sure to advise the the move supervisor of it's sensitive nature. Proper labeling and communication is essential for moving these items safely.
Standard-Vertical (narrow type) file cabinets
Standard-vertical (narrow type) file cabinets will be moved with their contents intact. Securely tighten the file holder in the back of each drawer to prevent the contents from slipping. Standard-vertical (narrow) file cabinets are tagged on the upper right hand corner of the top drawer.
Lateral-Horizontal (wide type) file cabinets
Due to their light construction and tremendous weight when full, lateral-horizontal (wide type) file cabinets must be emptied with the contents packed into cartons. Leave only the two (2) bottom drawers of lateral (the wide type) file cabinets full - all drawers above the bottom two drawers must be completely emptied. Failure to do so may result in damage to the cabinet, your facility or injury to a mover or employee.
Safes and fireproof filing cabinets
Check with us to determine proper handling. Roll-a-lifts, masonite (to protect the floors), or heavy rigging equipment may be required. Check elevator load capacity for extremely large safes.
Map cases, drawing and tracing files
These items must be moved on end. It is recommended that they be completely emptied prior to being moved. Map cases, drawing files, and tracing files are tagged on the top drawer or on the upper right hand corner.
Miscellaneous items
Desk Letter Trays: Empty papers and pack in correctly marked cartons.
Carded Files: Keep rods and file guards tightly drawn. Bind loose cards together with rubber bands in batches of about 150 and pack in cartons.
Furniture Casters: Remove loose casters and pack in cartons.
Odds & Ends: Pack desk clocks, calendars, rubber stamps, bookends in cartons or if special packing is required, notify Move Consultant in advance.
Employees Consolidating: Consolidate your office belongings with those of other employees being located in your immediate area at the new location. This will help conserve carton space.
Electronic And Telephone Service Equipment: Utility servicemen will have been notified in advance of this move. Remember, telephone servicemen are required to disconnect phones secured to desks.
Routing within your buildings
Building management services should be made aware of the move in advance. Loading, unloading areas, entrances, exits and loading docks must be made available to the movers exclusively. Reserving all elevators for the exclusive use of the mover will save time (which will save you money).
A pre-move conference will help clarify responsibilities
Prior to each move, we recommend that a pre-move meeting be conducted between each of your department heads and the move project managers. At this meeting understandings can be reached as to what the responsibility of each party is. This will assure that the move is accomplished efficiently and misunderstandings are avoided.
Protecting your corporate facilities
Proper building protection preserves the newness of the building and eliminates the need for extensive carpet cleaning and touch-up painting once the move is completed. Upon request, our workmen will install masonite walkways to protect carpets and floors, eliminating damage caused by heavy traffic. "Cornerbucks" and "Koroflex" may be used to protect facility corners and finished wall surfaces. Your mover should utilize the right materials placed in the best fashion to provide ultimate protection, thereby reducing your maintenance cost.
Employee participation on moving day
With the exception of your company's supervisors, and for reasons of safety and expediting the flow of the move, it is recommended that your employees are not present on the day they are to be moved to their new quarters. If your move has been organized so that moving crews will simultaneously load at origin and (at the same time) additional crews will be unloading at destination, please plan on having your company's supervisors available at each end (simultaneously) to answer the mover's questions and to provide direction.
Post move cleanup at the origin facility
You will need to make arrangements to have the origin facility cleaned once the move out has been completed. You will be surprised at the large amount of waste which will be uncovered once everything has been removed from the old facility.
Summary
We are a equal opportunity employer located in Yaphank, New York and operates by the authority of the New York State Department of Transportation, Certificate Number T-7485.
We are covered by Comprehensive Public Liability; including General Liability, Automotive Liability, Warehouse Legal Liability, Cargo Legal Liability and Worker's Compensation.
We recognize that quality service is the key to customer satisfaction. As a result, our mission is to provide high quality service...day in and day out. We strive to build enduring business relationships with our customers. This is achieved by providing quality service supported by responsive customer service.
We hope that you find our suggestions helpful. If you have any questions regarding preparations for your move, please don't hesitate to contact us at (631) 775-9815.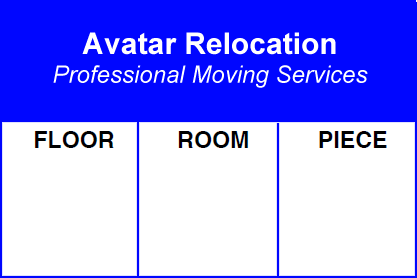 © Copyright Avatar Relocation, All Rights Reserved
* * *
Your comments...