If you see a super-sized tractor trailer with the name Mobile Mechatronics Lab tooling down the highway, you're looking at a million-dollar investment. It's a custom-made showroom filled with high-tech marvels, the brainchild of Festo, a leading world-wide supplier of automation technology.
"Our mobile showroom features 22 dynamic displays with fully functional operating machines, as well as 21 static displays," says Festo Exhibit Coordinator Andrew Wagner. "We had it made so we could take the trade show to our customers... it's designed to pull right up to the door, so they can step in, like they're stepping into another room of their own building."
Since its Long Island debut in June, the showroom has averaged about two stops a day at customer and distributor locations as it winds across the U.S. and Canada. Andrew says it was important to find a transportation partner with the experience to handle such a piece of equipment–as well as the many details and the related red tape for a busy schedule of transit between states, territories, and countries.
"We thought about setting up our own in-house logistics system and hiring an operator," says Andrew. "But we recognized that's not our area of expertise. We needed a turn-key solution."
Andrew got in touch with Joe McNamara, Certified Van Service (598), who had helped him before with trade show traffic. Joe in turn reached out to Atlas STG and its agent network, connecting with Bill South at Avatar Relocation of NY (444) and Professional Van Operator Paul Schmitt.
"Paul is an awesome operator," says Andrew. "Extremely conscientious, and a real asset to our effort."
Paul says the work is different from typical STG assignments. Fewer miles per day and multiple stops means less time behind the wheel, and more time on setup and takedown. And he gets plenty of help when he needs it. "The people at Festo are the greatest," Paul says. "They work with me in any way they can." Paul also enjoys the interaction with people – lots of people. "During the first week in September, we took part in the World Skills Conference in Calgary...we estimate as many as 10,000 people came through the exhibit."
The Mobile Mechatronics Lab will make approximately 500 stops during its maiden year. It will see about 11 months of active sales duty, with scheduled time off for routine maintenance and mechanical touch-ups for the displays.
* * *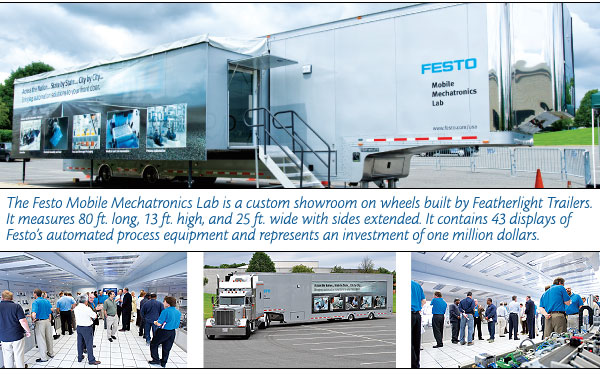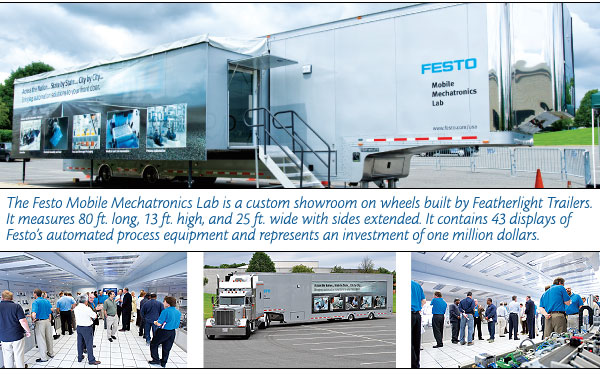 Your comments...