Avatar Relocation recently assisted Western Suffolk BOCES by moving a student manufactured "Chapter DIsplay" exhibit from it's Dix Hills facility to Syracuse, New york, and back. This senstitive exhibit material required pad wrapping and absolute on-time pickup and delivery performance, and Avatar came through with flying colors.

The Chapter DIsplay competition selects the outstanding promotional exhibit designed and constructed by SkillsUSA student members. The display is built around and articulates a common theme established annually by SkillsUSA. The contest involves a team of no more than three students setting up the display and one student presenting information about the display in a presentation/interview with judges.

Western Suffolk BOCES Wilson Tech students who took first place in four categories at the annual New York State "SkillsUSA" competition! The winners in Automotive Service and Chapter Display will now represent New York State at the national contest which is being held in Kansas City in June.

SkillsUSA, is a national student organization that offers leadership, citizenship and character development programs to complement the skills training that vocational students receive in career and technical programs at Wilson Tech. The competition required students to demonstrate the skills they had learned in their Tech programs.

"It was obvious that those kids worked real hard on this exhibit and was fun helping those kids get their exhibit to and from the Syracuse competition site" said Avatar Relocation president Bill South, adding "We hope they win the national competition this year!"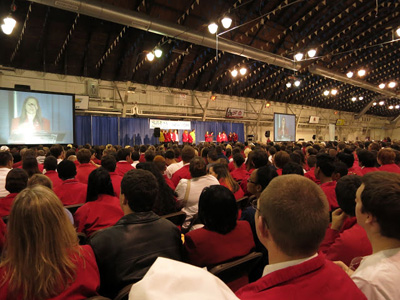 * * *
Your comments...