The U.S. Navy Chaplain Corps recently relocated and consolidated its chaplain and enlisted religious program specialist training schools from Newport, Rhode Island to a new facility at Fort Jackson in Columbia, South Carolina. The new facility, Naval Chaplaincy School and Center, is collocated with the Air Force Chaplain Corps College and the U.S. Army Chaplain School and Center at the Armed Forces Chaplaincy Center. Although the center will hold its official dedication ceremony sometime in early 2010, it is already hosting new students. Avatar Relocation was called upon to pack and load a significant quantity of high-value religious and historical artifacts during this relocation. Specialized packing and wood crating was required, along loading and unloading services, and transportation via air-ride climate controlled trailer. "This is another chance for Avatar to assist our nation" said Avatar President Bill South. "We view this project as much more then a job...this is a duty we have to assist our nation and those men and women who serve" Mr. South added. Avatar Relocation packers, loaders, drivers, and unloaders completed this project which originated in Newport, Rhode Island and terminated in Fort Jackson, South Carolina.
To paraphrase the Marine Corps, the Navy Chaplain Corps is looking for a "few good men and women." Navy Chaplaincy is a call that offers religious ministry professionals opportunities to provide spiritual care to Sailors, Marines, and Coast Guardsmen serving in the continental United States and around the globe. The Chaplain plays a vital role in helping individuals negotiate the crucial moments of their lives and Naval Chaplains include ministers, rabbis, priests, and imams who will keep the faith in the Navy's mission to ensure the spiritual readiness of our men and women in uniform.
Navy Chaplains serve on ships and at foreign and domestic bases throughout various Navy, Marine Corps and Coast Guard commands. According to the Armed Forces Chaplaincy Board of June 2006, "The three chaplain schools will prepare chaplains and chaplain assistants/religious program specialists to serve in their respective wartime and peacetime service-unique roles and missions... providing necessary service-unique training, the center will consolidate training where appropriate."
The Navy Chaplain Corps' mission is to maintain a chaplain corps and religious program specialist rating which deliver religious accommodation, care, and advisement, to strengthen faith, values, and virtues, so that Sailors, Marines, Coast Guardsmen, Merchant Marines and their families may best serve our country. The Naval Chaplaincy School and Center is responsible for training chaplains to perform this vital mission.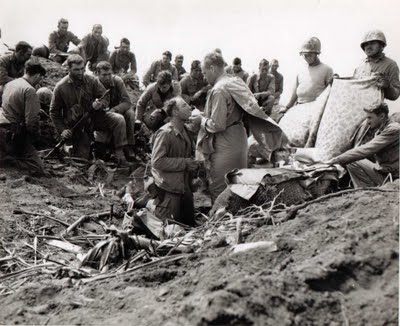 Associated article hyperlinks
Your comments...